Searchlight Resources Undertakes Kulyk Lake Rare Earth Exploration Program
Details

Category: tungsten's News
Published on

Tuesday, 28 September 2021 16:41
Searchlight Resources Inc. recently announced that the company's Kulyk Lake Rare Earth Element (REE) project is undergoing on-site exploration, which is located approximately 165 kilometers north of La Ronge, Saskatchewan, Canada, and 65 kilometers south of the Key Lake Mine.
The geological team is currently conducting exploration, mapping, and sampling of the Kulyk Lake REE assets to confirm and expand the results reported in 2009 and 2010. The Kulyk Lake block occupies an area of 105.4 square kilometers within a 35-kilometer length, covering 21 REE areas including the Kulyk Lake target. Historically, the Kulyk Lake area has been explored for uranium, and then preliminary REE exploration was carried out when the REE price soared in 2010.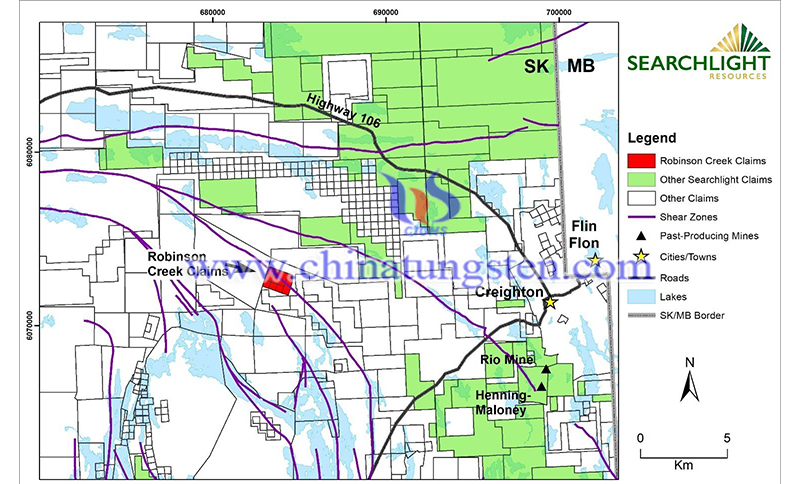 In addition to the ongoing field work, the company has also signed a contract with the Special Projects Corporation in Calgary, Alberta, to perform high-resolution aeromagnetic and radiometric measurements on an approximately 39 square kilometer claim area. The plan will be carried out in the second half of this month.
Stephen Wallace, CEO of Searchlight, said: "We are very pleased to be able to evaluate this strategically located statement area on the ground, allowing us to verify this historic high-grade Rare Earth showing."
In 2009, the Saskatchewan Research Council Laboratory used a rare-earth analysis kit to collect and analyze grab and channel samples. The results include grab samples AGKJR001 with 56.18% total rare-earth oxides (TREO), including 12.49% critical rare earth oxides (CREO), grab samples AGKJR002 with 30.6% TREO, including 6.82% CREO, and channel samples AGKJR003 and AGKJR003 % TREO includes 4.21% of CREO.
The results presented by the exploration are of historical significance in nature. Searchlight has not conducted any independent investigation of the sampling, nor has it independently analyzed the results of previous exploration work to verify the results. Searchlight believes that these sample results are relevant because the company uses historical reports to evaluate historical sample results as a guide for planning future exploration plans.
Searchlight Resources Inc. is a Canadian mineral exploration and development company focusing on the Canadian province of Saskatchewan, which was rated as the best location for Canadian mining investment by the Fraser Institute. The exploration focuses on projects with road access, which are the province's gold and battery minerals throughout the province.
The company is currently advancing its Bootleg Lake gold mine project, which has four high-grade gold mines produced in the past, located in Saskatchewan, less than 10 kilometers from Flin Flon, Manitoba.