Neodymium Oxide Price – June 17, 2021
Details

Category: tungsten's News
Published on

Thursday, 17 June 2021 18:32
China's domestic rare earth market is still tepid in the middle of June, 2021 with terbium oxide and neodymium oxide prices declining slightly. Downstream users destock their products, which reduces market confidence to a certain extent.
With the end of the Dragon Boat Festival, some rare earth separation companies and magnetic materials companies have not yet fully restored their normal production status. It is also one of the reasons why the trading activity is not high and the price of products is difficult to rise. In addition, the slowdown in sales of downstream products such as new energy vehicles, smart phones, and inverter air conditioners will also cool the rare earth market. However, in the medium and long term, the global economic recovery is expected to be optimistic and the manufacturing industry has a good development prospect, which has played a supporting role in the industry's optimism about the market outlook.
In May, china's domestic automobile production and sales were 2.040 million and 2.128 million, down 8.7% and 5.5% month-on-month, and down 6.8% and 3.1% year-on-year respectively; during the same period, the domestic market mobile phone shipments were 22.968 million units, down 32.0% year-on-year , Including 16.739 million 5G mobile phones, an increase of 7.0% year-on-year.
Prices of rare earth products on June 17, 2021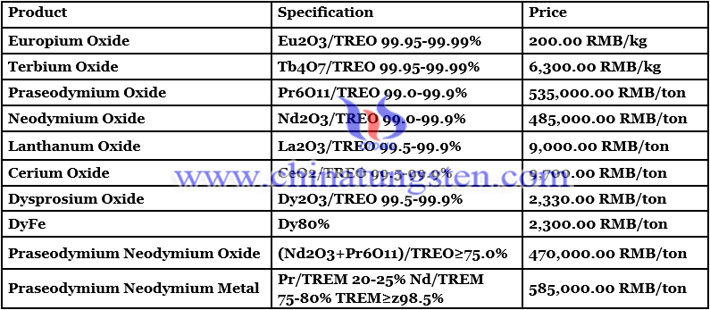 Picture of lanthanum oxide
Follow our WeChat to know the latest tungsten price, information and market analysis.