European Automakers Seek to Break China's Rare Earth Dominance
Details

Category: tungsten's News
Published on

Friday, 01 October 2021 21:57
European automakers are discussing with an Australian mining company to source elements that help power electric vehicles from outside China, and China dominates the global supply of rare earth metals.
Mining company Arafura Resources is developing the US$728 million Nolans project in the Northern Territory of Australia, which is expected to meet global demand for up to 10% of the rare earths used in permanent magnets in electric motors.
Arafura plans to process ore near its location, ensuring that it directly supervises the disposal of toxic waste products from projects it purchased in 2001.
Arafura Chief Financial Officer Peter Sherrington said in an interview: "We have contact with European manufacturers and provide them with materials directly," he added, adding that as negotiations progress to quantity and price, he expects to sign the agreement before the end of the year.
The new rules on sustainability and traceability "make automakers aware of this need," Sherrington said.
Rare earths are becoming another source of concern for the transition to electric vehicles. They will need large amounts of battery raw materials, such as lithium, nickel and cobalt, which has led automakers including BMW, Volkswagen Group and Tesla to directly look for mine owners.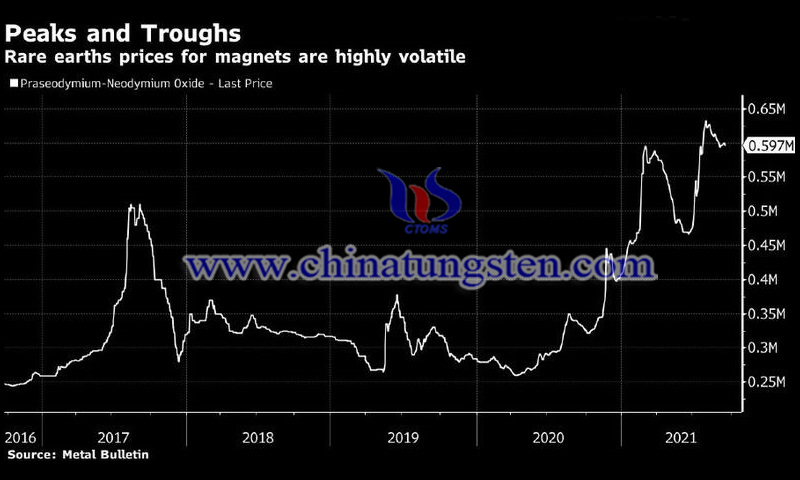 It is expected that China will put most of its output into domestic use in the future. According to BloombergNEF, China controls two-thirds of rare-earth mining and 85% of rare-earth refining.
Last year, the U.S. Department of Defense promised to provide Australian producer Lynas with funds to build a processing plant in Texas. It is estimated that the initial cost will be $30 million. Other companies advancing the project include Hastings Technical Metals and Peak Resources.
Although automakers including BMW, GM and Toyota are trying to reduce the use of rare earths, switching to new alternatives often reduces the efficiency of motors. Tesla initially used induction motors that did not require magnets to power its electric cars, but changed gears in Model 3.
Renault's electric car motors are unusual because they do not use rare-earth metals. "For future supply security, you need to create your own," said Joanne Jia, vice president of China's Hangzhou Permanent Magnet Group. The company has developed magnets that can switch between two rare earths based on price. "This material is critical, but the quantity is very small."
Arafura's Sherrington said that a new law on supply chain liability in Germany has aroused interest. Starting in 2023, the company will be responsible for the social standards of its entire supplier network, including discarded products, otherwise it will face fines.
European automakers are also working hard to establish supply. Europe is now the primary region for electric vehicles and will become the largest consumer of these elements. The European Union established the European Raw Materials Alliance last year to help ensure the supply of key raw materials, thereby promoting the world's most ambitious plan to combat climate change. In terms of rare earth, the alliance has identified 14 projects in Europe with an investment of 1.7 billion euros (2 billion US dollars).