Peloton Minerals Acquires Westmount Resources' Copper-Molybdenum Porphyry Project
Details

Category: tungsten's News
Published on

Wednesday, 08 September 2021 20:15
To acquire the large copper-molybdenum porphyry project at Montana, USA of Boulder Property held by Westmount Resources, Peloton Minerals and Westmount have reached an agreement to acquire the privately held issued and outstanding shares of Westmount through Celerity Mineral Corporation, a wholly-owned subsidiary of Peloton.
Boulder Porphyry Property is located approximately 16 miles (26 kilometers) north-northeast of Montana Butte, home to the historic Butte mining area. Boulder Property is also located about 20 miles (32 kilometers) south-southwest of Montana Tunnels, another large former base and precious metal producer.
Butte, Boulder Property, and Montana Tunnels are all located in the northeast-trending Great Falls Tectonic Zone (GFTZ) (1.4 billion years ago), sometimes excavated into melts deep in the mantle. Most of Montana's hyperthermal and porphyry metal deposits are located along the GFTZ.
Between 1965 and 1977, Anaconda and Union Oil (Molycorp) drilled 8 deep core holes in the area and entered the Boulder Batholith based on USGS regional magnetic and Anaconda IP surveys. These cavities intersect a large porphyry system with low-grade copper mineralization. Continuous mineralized drill bit intercepts between 1255 and 1614 feet intersect with a weighted average of 600 to 1000 ppm.
Three deep core holes were mined by OT in 2004-2005, located about 1 mile southwest of the Anaconda and Molycorp wells, intersecting similar porphyry alterations and continuous copper mineralization. The drill bits intersected between 1,242 and 2,630 feet, weighted average with a copper grade between 313 and 785 ppm.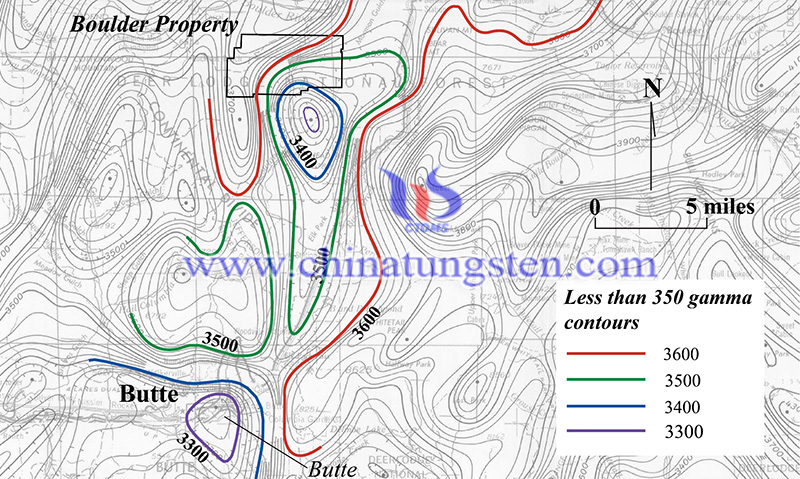 Although the O.T. mining industry conducted extensive geophysical research during 2005-2006 and located potential high-grade targets within the identified porphyry system, these potential targets have never been drilled, and the mine has been dormant since.
Westmount acquired Boulder Property through mortgage and other legal procedures in 2020 and 2021. According to the agreement to acquire Westmount and related projects, in addition to 50% of the issued and circulating Celerity shares, Westmount shareholders will also pay $600,000 (promissory note) within one year, and 1% of the net smelter return concession use fee (NSR), which can be purchased at half the price of USD 5 million before commercial production.
Peloton Minerals plans to let Celerity raise its own funds and try to make it a public company through a series of financing and transactions. Peloton shareholders will receive Celerity shares for free as a physical dividend and have the opportunity to participate in Celerity financing through allotment or other private placement methods.
After the completion of the financing, the proceeds will be used to pay the acceptance notes first. Second, it is used to complete the geophysical fieldwork this year. Third, to start the drilling permit process would be part of them. Fourth, it will complete and submit a technical report that complies with NI 43-101. Fifth, it is used to submit the Celerity prospectus. Finally, it seeks to list Celerity on the Canadian Exchange.
It is estimated that it will take up to one year to complete these tasks. At present, Peloton has not entered into any agreement on any financing, nor has it set a record date for any of the aforementioned transactions. As the company develops and plans advance, further details will be announced.
President and CEO Edward (Ted) Ellwood commented: "We have had our eye on this copper-molybdenum porphyry project for over ten years and are thrilled that it is coming to us. It is an exciting exploration target with tremendous upside potential and fits extremely well with the potential of our Nevada Carlin style gold projects, which we also continue to advance and remain excited about."
Edward added, "As for the financing and structural strategy, we feel this is the best approach toward financing the project adequately while minimizing Peloton dilution. Any percentage of another Butte would be significant."
Peloton now holds interests in two Montana state projects (the Boulder copper-molybdenum porphyry project and SBSL hyperthermal gold exploration projects) and three Carlin-style gold exploration projects in Elko County, Nevada, all of which have been approved for drilling.
In Nevada, Peloton Minerals plans to start a geophysical research project at Golden Trail later this year and plans to seek joint venture partners on two other projects. If a joint venture partner is found, this means that Peloton only needs to directly fund one of the five projects in the portfolio, while retaining a strong interest in all projects.