Erdene Initiates Review of Khuvyn Khar Molybdenum Copper Project
Details

Category: tungsten's News
Published on

Wednesday, 21 July 2021 23:01
"With the recent increase in demand for copper (Cu) and molybdenum (Mo), and the long-term prospects of these commodities in the industry, Erdene has initiated a strategic review of its Khuvyn Khar Molybdenum Copper Project," said Peter Akerley, its president and CEO. "As one of the largest undeveloped Mo-Cu projects in Asia, Khuvyn Khar has huge potential for resource expansion.
The company believes that there are multiple ways to unlock the value of this project for our shareholders. The strategic review will consider multiple ways to maximize the value of the project, including the sale, joint venture partnership or spin-off."
The Project is located in Bayanhongor Province, Mongolia, at the junction of the Mongolia-China border and the Nariin Sukhait coal mine about 180 kilometers north. The mining license was issued to Erdene in 2011 and has a 60-year validity period. At the same time, the project is located approximately 30 kilometers east of its Bayan Khundii gold project.
In 2011, Minarco-Mine Consult (now RPM Global) performed resource estimates for the 3-km portion of the porphyry system, mainly the Zuun Mod deposit. In total, the Zuun Mod molybdenum-copper deposit resources are estimated to be 218 million tons (Mt), with an average grade of 0.057% Mo and 0.069% Cu.
This is equivalent to containing 273.5 million pounds of Mo and 33.07 billion pounds of Cu. In addition, it is inferred that there are 138 Mt Mo and Cu metals with an average grade of 0.052% Mo and 0.065% Cu, which is equivalent to another 15.77 billion pounds of Mo metal and 19.77 billion pounds of Cu metal.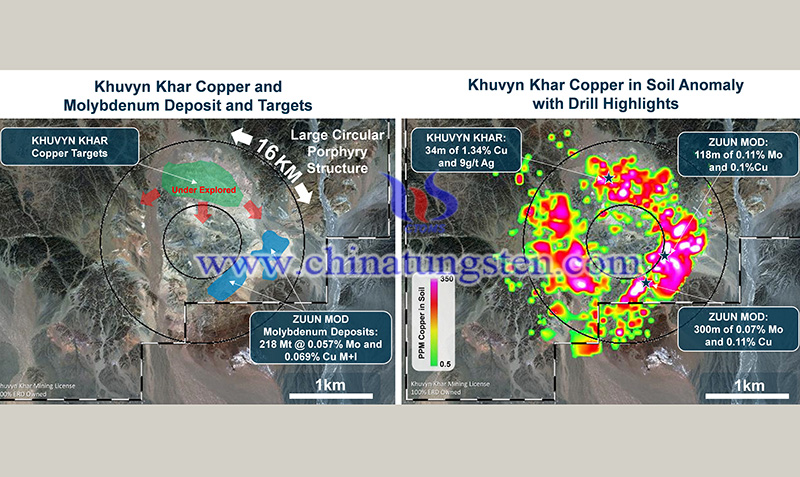 In addition to the Zuun Mod deposit, the Khuvyn Khar Molybdenum Copper Project also has several high-potential Cu and Mo deposits. The exploration area is located in the northern part of the Zuun Mod porphyry complex. It has a large area of disseminated copper mineralization within a few kilometers of the foliar and potassium altered quartz monzonite and granodiorite intrusions.
Multiple copper mineralization zones intersect during large-spacing drilling, including 34 meters 1.3% copper and 9.24 g/ton silver. This area has not been tested for its depth and trend in the southwest under the andesite cover.
The total global Mo market in 2020 is 546 million pounds, and at today's prices, it is estimated to be worth 10.2 billion US dollars. Molybdenum is a secondary metal. It is a metal element with ductility and ductility. It is mainly used in alloy steel to increase hardness, strength, corrosion resistance and conductivity. Mo demand in the engineering steel, stainless steel and chemical industries accounts for approximately 75%.
Mo production is highly concentrated. The top five producing countries are China, Chile, the United States, Peru and Mexico. The five countries account for more than 90% of global production in 2020, of which North America and South America account for 22.9% and 29.3% respectively. China is the largest producer, accounting for 40% of global supply in 2020.
At the same time, China is also the largest consumer of molybdenum. In 2020, China's net imports soared from 1.4 million pounds in 2019 to 100 million pounds. China's Mo deficit mainly comes from the United States, Peru and Armenia.
Since the discovery of the Khuvyn Khar Molybdenum Copper Project mining area, Erdene has been focusing on the exploration and development of precious metals. However, due to recent developments, the company has initiated a reassessment of the Mo and Copper potential of the Khuvyn Khar Mine.
The main reasons are as follows: First, the prices of copper and molybdenum have risen sharply in the past year and are expected to remain strong for the foreseeable future; Second, since China's internal demand has increased by 24% since 2017, while internal Molybdenum supply has fallen by 8% in the same period, China has become more dependent on Mo imports.