Ellen Browning Scripps Memorial Pier Adopts Molybdenum-Containing Stainless Steel
Details

Category: tungsten's News
Published on

Wednesday, 16 June 2021 21:00
The world's top research wharf, the Ellen Browning Scripps Memorial Pier upgraded with molybdenum-containing stainless steel in 2018 to reduce the damage to it from highly corrosive seawater to ensure that future research projects could continue safely.
The Pier, managed by Scripps Institute of Oceanography, is one of the world's largest research piers. Since its initial construction, scientific experiments at the pier have furthered understanding of global oceans, replacing the pier's railings with Type 316L stainless steel posts and cable infill ensures that the research projects can continue safely into the future.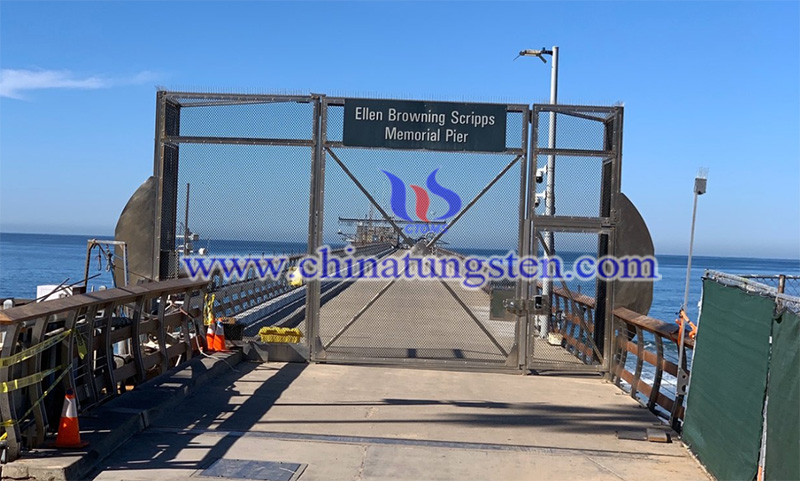 Ellen Browning Scripps Memorial Pier was built in 1916. Due to ten years of ups and downs, it was overhauled in 1988, that is, the wooden boards and railings were replaced by concrete and steel. But after 2018, the replaced materials also began to fail. To better solve this issue, in 2018, a building material with stronger environmental adaptability-316L stainless steel was used to make railings.
316L stainless steel is mainly composed of three elements: chromium (Cr), nickel (Ni), and molybdenum (Mo). The new standard grade is 022Cr17Ni12Mo2, and the old grade is 00Cr17Ni14Mo2. It owns excellent corrosion resistance. In an environment containing halogen ions such as chloride ions. Research shows: its density is about 7.98g/cm3, the specific heat ratio (20℃) is about 0.502J/(g*K), the tensile strength is higher than 480MPa, the conditional yield strength is higher than 177MPa, the elongation is higher than 40%, and the section shrinks. The rate is greater than 60%.
The biggest difference between 304 stainless steel and 316L stainless steel is that the latter contains Mo, which makes the material more resistant to corrosion. The stainless steel channel steel used as the new railing post of the wharf is connected by laser welding. Each smooth, slightly curved channel steel is about 15 cm wide and weighs 5.4 kg. It should be noticed that the channel steel, steel cables and accessories need electro-polishing treatment to have the best corrosion resistance.
Because Scripps Researchers need to collect air and water samples from the dock, the dock must remain operational 365 days a year. The Scripps Institute has collected data on climate change for more than 60 years, including temperature, salt concentration, plastic degradation, and plankton levels, and found that the amount of carbon dioxide in the atmosphere has continued to increase over time.
About one-third of the carbon dioxide produced by human activities is absorbed by the world's oceans, resulting in increased ocean acidity, which hinders the growth of shells and corals, and accelerates the corrosion of structures near the coast. Therefore, the assistance of molybdenum-containing stainless steel assistance is needed to better protect the Ellen Browning Scripps Memorial Pier.