Eclipse Metals Advances Greenland Rare Earth Development Plan
Details

Category: tungsten's News
Published on

Tuesday, 12 October 2021 15:41
Eclipse Metals advances Greenland development plan with historic samples returning high-grade rare earth. The historic core analysis is a step forward to enhance the understanding of Ivittuut's quartz, cryolite, and siderite mineralization and the potential of the Gronnedal-Ika carbonate group to host rare-earth minerals.
Eclipse Metals Ltd. continues to advance its development plan in southwest Greenland and is encouraged by the continuous inspection of the Ivittuut cryolite mine concept and the historical diamond core of the Gronnedal-lka carbonate intrusion.
Historical drilling cores from Ivittuut and Gronnedal-lka have been stored in the Greenland government facility in Kangerlussuaq and sent to Eclipse for sampling. The core has been submitted to a laboratory in Perth for chemical and petrological evaluation.
A historical sample of the Gronnedal-Ika carbonate deposit has a total rare earth element (REE) level of 34,400 ppm. This important discovery supports the correlation between REE mineralisation identified within olivine dolerite dykes and magnetic zones at Gronnedal-lka.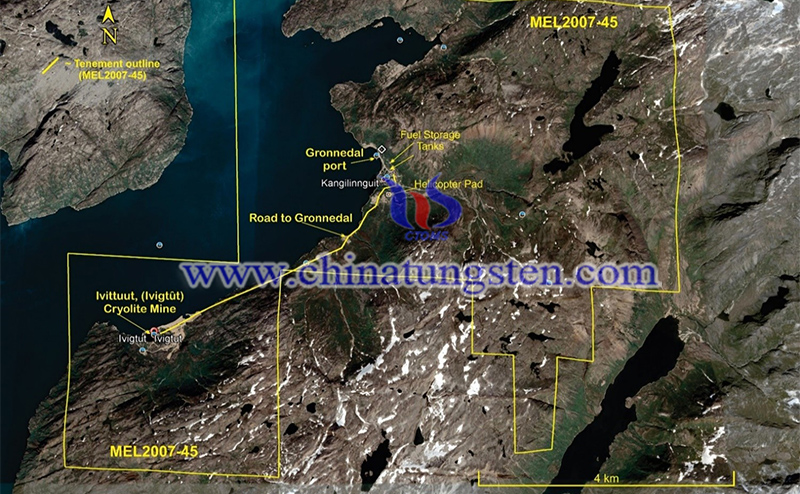 The quartz mineralization area below the historical Ivittuut mining area has also determined important exploration targets, and people have mined a large amount of cryolite from there.
A preliminary assessment of core samples provided more insight into the mineralization of quartz, cryolite, and cryolite in the mine environment. The assessment also provided a preliminary understanding of the Gronnedal-Ika carbonate complex, which is less than 10 kilometers from Ivittuut and only 5 kilometers from the port of Gronnedal.
A further surface sampling plan has been carried out, and more samples are expected to be sent in November 2021. Obtaining a large number of core banks from this project area may save a lot of costs in delineating this rare earth mining area in the future.
Using drill core samples, EPM mapped a three-dimensional resource model of the mine environment to better show the quartz areas formed under historical mining pits.
This area formed a flat, roughly circular intrusion with a diameter of approximately 220 meters and a thickness of approximately 90 meters. The simulated area represents in-situ mineralization, which can enter the central cryolite-fluorite zone from 5 meters to 10 meters below. Below the pit, the quartz domain bulges east and west.
An Australian laboratory will conduct further comprehensive testing. EPM is particularly interested in carbonate intrusions. Historical exploration has found abnormal rare earth element content in diabase dams that intrude into carbonate rocks. The high demand for mineral exploration means that it is still unclear when the results will be available, but EPM will announce these results in due course.
In view of the advancement of the Greenland development plan, EPM continues to review its asset portfolio to assess how to obtain the best value from its projects. The assets may be repositioned to ensure that the Ivittuut project can maintain proper exploration and development focus.
The company is in early-stage discussions with third parties about potential joint venture partnerships and other opportunities, which will further advance its Australian project and add value to shareholders.
Eclipse Metals is an exploration company focused on the mineralization of multiple commodities in southwestern Greenland, the Northern Territory of Australia and Queensland. The company has a large portfolio of cryolite, fluorite, siderite, quartz, rare earth elements, gold, platinum group metals, manganese, palladium, vanadium and uranium mineralization prospects.
EPM wholly owns the Ivittuut project in Greenland, which is the world's largest and only known source of natural cryolite. The mined cryolite deposit originally contained 3.8 million tons of ore, with a grade of 58%. It was in operation for 120 years and was closed in 1987.