BCM Resources Continues Drilling at Thompson Knolls Porphyry Cu-Mo-Au
Details

Category: tungsten's News
Published on

Thursday, 26 August 2021 16:09
BCM Resources (the "company" or BCM) is pleased to announce that core drilling is continuing in mineralized quartz monzonite porphyry (QMP) intrusive rocks at its Thompson Knolls (TK) porphyry Porphyry Cu-Mo-Au system discovery. In the spring of 2018, BCM discovered this by drillhole TK18-1 in Millard County, Utah, the US.
BCM is a diversified Canadian mineral exploration company that is currently focused on completing the first phase of discovery drilling for its key asset, Thompson Knolls. BCM also controls potential copper, gold, and molybdenum exploration projects in British Columbia. BCM is managed by experienced and successful board members and consultants.
Recently, the company was pleased to announce the appointment of Dr. Sergei Diakov as company president. Dr. Diakov is a veteran with 28 years of mining industry experience and a history of successful exploration and shareholder value creation.
Dr. Diakov holds a PhD in economic geology and has extensive global expertise in regional geology, structural analysis, geochemistry, and mineral deposit geology. "We look forward to Sergei using his wealth of expertise to further tap the economic potential of the Thompson Knolls porphyry Cu-Mo-Au mineral," said Dale McClanaghan, the CEO of BCM.
TK is located in Rio Tinto near Salt Lake City, Utah, about 200 kilometers southwest of the giant Bingham Canyon porphyry copper-molybdenum-gold mine and smelter complex.
The current drilling depth of TK21-2 is 490.5 meters. It passed through a 195.5 m surface limestone clastic mass into the QMP and stayed there. The detailed mineralogy of QMP in TK21-2 shows that there are scattered quartz veins in the lower part of the pores, and the content of pyrite-based disseminated sulfide has significantly increased.
The core has been recorded and is being sawed and sampled, and subsequent analysis and lithofacies studies will be conducted. After a short-term suspension, the drilling of TK21-2 resumed on August 21, 2021.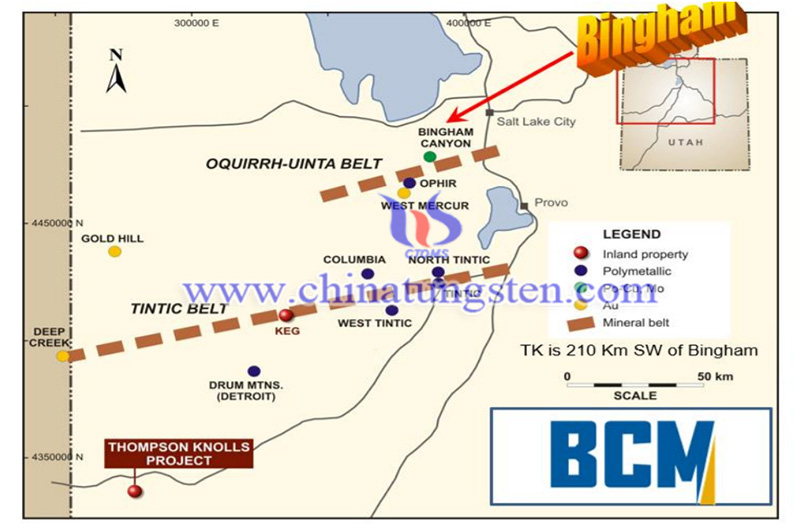 BCM Resources announced that it has just successfully completed a drone aeromagnetic survey of the mining industry by Zonge Geophysics in Reno, Nevada. The survey chart is used to show the outline of the main invading body, which is helpful for follow-up work.
In addition, the deployment of audio-magnetotelluric surveys is also underway, mainly to delineate hydrothermal alteration zones in the porphyry system.
The current geophysical and drilling program for the Thompson Knolls porphyry Cu-Mo-Au is designed to guide the highest-grade part discovered by the QMP system and begin testing its form, scale, and grade potential.