Praseodymium Oxide Price – October 20, 2021
Details

Category: tungsten's News
Published on

Thursday, 21 October 2021 18:56
Rare earth market quotation in China: terbium oxide and praseodymium oxide prices decline slightly while praseodymium neodymium oxide and metal prices rise on October 20, 2021.
In the light rare earth market, the prices of praseodymium and neodymium are still moving up slightly. In addition to the tight supply of raw ore and scrap, strong demand for new energy motors and high commodity prices are also the main reasons for the increase in quotations of rare earth mining companies; In the heavy rare earth market, the price increase of dysprosium and terbium products has slowed down. Supported by the limited release of domestic heavy rare earth mining enterprises' production capacity and the difficulties in exporting Myanmar rare earth mines, holders generally have a strong sense of price appreciation. However, in order to avoid the risk of inversion, downstream users basically maintain rational procurement.
Prices of rare earth products on October 20, 2021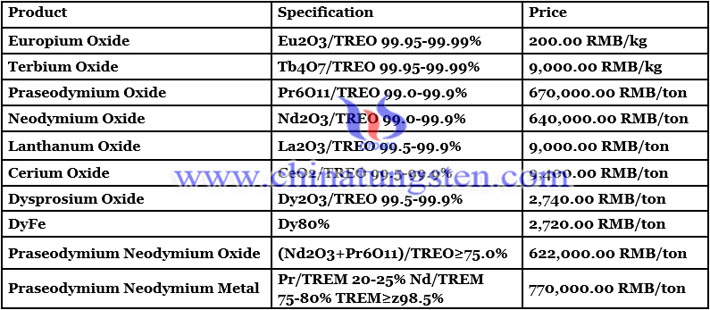 Picture of rare earth fluorescent materials-
Follow our WeChat to know the latest tungsten price, information and market analysis.