Praseodymium and Neodymium Metal Price – June 10, 2021
Details

Category: tungsten's News
Published on

Thursday, 10 June 2021 18:34
Rare earth market quotation in China: DyFe, dysprosium oxide and praseodymium and neodymium metal prices continue to edge lower on June 10, 2021 due to the inconsistent negotiations between the supply and demand sides, poor market activity and limited transactions.
From the perspective of favorable factors, first, the current mainstream product prices are still relatively high, so holders still have a certain profit margin; second, driven by the sound operation of downstream manufacturing markets such as new energy vehicles, wind power generation, and inverter air conditioners, the demand for rare earth functional materials is still huge, which will help holders to firm up their quotations.
From the point of view of negative factors, first, the consumption capacity of downstream separation companies and magnetic materials companies is limited, which has led to a slightly loose supply of lanthanum-cerium products, while the quotations of mainstream products have been rationally adjusted; second, the listed prices of South Rare Earth Southern Rare Earth this week both declined, which is not conducive to the recovery of market confidence.
Prices of rare earth products on June 10, 2021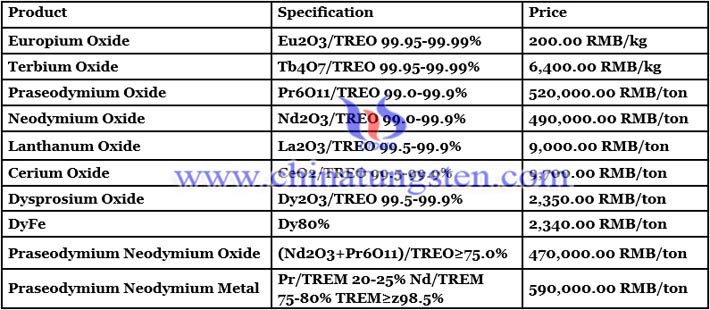 Picture of praseodymium and neodymium metal
Follow our WeChat to know the latest tungsten price, information and market analysis.