Dysprosium Oxide Price – July 15, 2021
Details

Category: tungsten's News
Published on

Friday, 16 July 2021 10:25
Rare earth market quotation in China: DyFe, terbium oxide and dysprosium oxide prices decline slightly on July 15, 2021. Industry insiders have different views on the market outlook – some have greater confidence in the future market growth while some are more worried.
The main reasons for this situation are as follows: first, due to the good development prospects of emerging industries, many countries have a large demand for rare earths, and they are included in the list of key raw materials, thus supporting the industry's optimism about the market outlook; second, China's favorable policies such as the "Export Control Law" have been continuously promulgated, which is also a source of motivation for investor confidence.
However, the price of rare earths rose sharply in the first quarter, and the current prices are still relatively high. This is the main reason for the recent demand for purchases by downstream users. Coupled with the widespread distribution of rare earths, traders are even more cautious about the market outlook.
Prices of rare earth products on July 15, 2021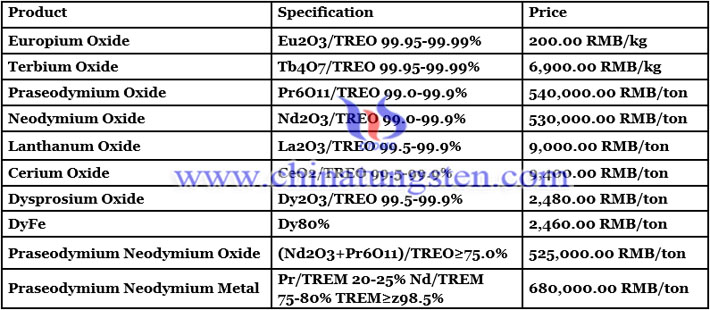 Picture of metal neodymium