Commerce Resources Commences Drill Program at Ashram Rare Earth Deposit
Details

Category: tungsten's News
Published on

Monday, 02 August 2021 12:09
Recently, Commerce Resources Corp. announced that it has completed the first drill hole planned for the 2021 site at the Ashram rare earth and fluorite deposit in northern Quebec, and it is set to commence the summer drill program. The project is managed by Dahrouge Geological Consulting Ltd. of Edmonton, and Logan Drilling Ltd. of Stewiacke is responsible for the drilling operations.
After Saville Resources completed several drill holes in the Mallard and Miranna exploration areas within 1 kilometer of Ashram, the company has moved the drilling rig to the Ashram deposit in advance, where Saville Resources holds the company's options to earn up to 75% of the proceeds interest. The shared drill maneuvers, camp operations, and other mutual project support for these two projects to support costs.
A total of 15 to 20 holes of 2,500 m of NQ size are expected to be drilled at the Ashram rare earth deposit. The goal of these holes is to further delineate the deposit, which is open to both north and south, and can be inferred/indicated to indicate/measure areas with high neodymium-praseodymium (NdPr) content. Depending on the location of the deposit, the distribution of NdPr usually varies between 21-24+%, and monazite is the main carrier of rare earth elements (REE).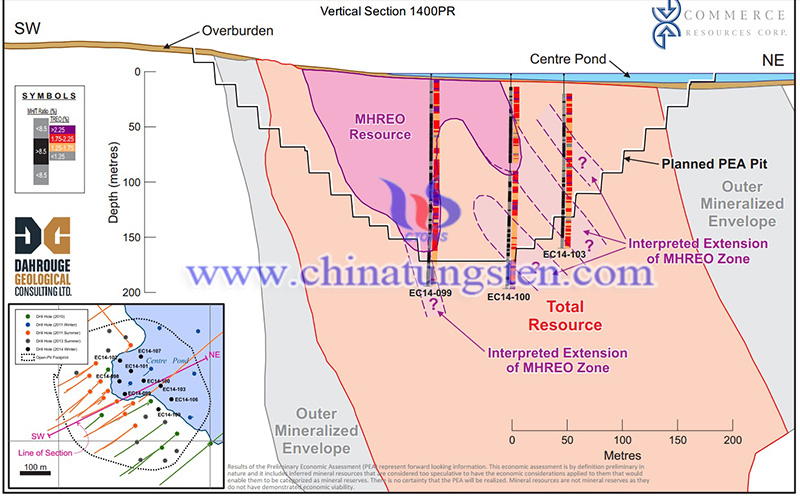 In addition to the drill program, the company continues to collect the remaining site data required for the pre-feasibility study (PFS), and plans to complete the remaining qualified personnel site visits later in the project. While on-site and PFS plans, the company will continue to advance its Hazen Research process development in Colorado, and other components of PFS are currently being promoted by third-party consultants.
The company continues to develop core relogs and geological models of the deposit, which will guide the drill program to achieve its goals.
The company pointed out that due to the COVID-19 pandemic, it will execute on-site plans while complying with all federal, provincial, and territorial restrictions. It has completed the process of entering Nunavik and has been authorized to complete its planned on-site activities. According to NI 43-101, mineral exploration is currently regarded as a basic service in Canada and Quebec.
Commerce Resources Corp. is a junior mineral resources company focused on the development of the Ashram rare earth and fluorite deposits in Quebec, Canada. The company is positioned as one of the world's lowest-cost rare earth producers, and is determined to become a long-term supplier of mixed rare earth carbonate and/or NdPr oxide in the global market.
The Ashram deposit of Commerce Resources is characterized by simple rare earth (monazite, bastnaesite, xenotime) and gangue (carbonate) minerals. In addition to being one of the world's largest rare earth deposits, Ashram is also one of the world's largest fluorite deposits, and has the potential to become a long-term supply resource for the metal spar and acid spar market.