Isn't it amazing if the printed image looks 3D? Unfortunately, traditional prints like photographs display two-dimensional (2D) images with a fixed appearance because they only contain intensity and color information. These prints cannot display 3D images because they lack direction control of the light, resulting in loss of depth information.
Light field printing (LFP) displays three-dimensional (3D) information to naked-eye observers under ambient white light illumination. The observer sees the changing perspective of the 3D image from different angles. However, due to the limited resolution and the misalignment between the lens and the color pixels, LFP will appear pixelated. One promising solution for creating high-resolution LFP is through the use of advanced nanomanufacturing technology. Here, we use two-photon polymerization lithography as a one-step nanoscale 3D printer and directly manufacture LFP with transparent resin. This method produces both high spatial resolution (29–45 µm) and high angular resolution (~1.6°) images, with smooth motion parallax in a 15 × 15 view. It is worth noting that the smallest color pixel consists of only a single nanopillar (about 300 nm in diameter).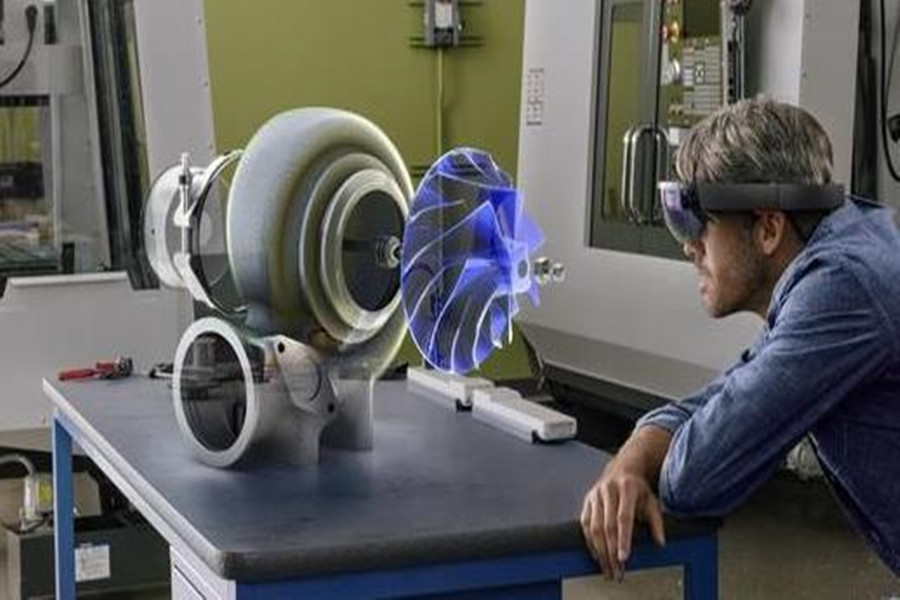 To solve this problem, a team of researchers at the Singapore University of Technology and Design (SUTD) used nanoscale 3D printing technology to create high-resolution light field printing (LFP). The LFP includes a microlens array arranged on top of a structured color pixel array. When the LFP is illuminated by ordinary white light, a 3D image is displayed. 3D images are auto-stereoscopic, which means they can be viewed without special glasses. The image changes its appearance when viewed from different angles, which provides a special 3D visual effect for LFP.
(a) Schematic diagram of the working principle of light field printing. (b) Light field printing observed from different angles.
More importantly, high-resolution LFPs are required to display ultra-realistic 3D images, which have potential applications in artworks and security items. By creating LFP using nanoscale 3D printing, the team achieved a maximum pixel resolution of 25,400 dots per inch (dpi), which exceeds the pixel resolution of consumer inkjet printers of ~1,200 dpi. The structural color pixels in LFP are made of nano-pillars (about 300nm in diameter). Perhaps the most significant result is that each color pixel can be represented by a single nanopillar to produce the maximum resolution LFP.
Joel Yang, the lead researcher of the study and associate professor of SUTD, said that this may be the first time 3D printing has been used to completely create multi-color light field printing (LFP) in one step, without the use of dyes and the need to manually align the microlenses to the colored pixels. . Prints embed up to 225 frames in a single LFP, creating a smooth viewing transition with unprecedented resolution. These effects will cause 2D printed parts to produce ultra-futuristic realistic 3D visual effects.
The team expects that when nanotechnology allows greater scalability and throughput, high-resolution LFPs will be easier to buy on the market. The research was published in Nature Communications.
Link to this article: Use nanoscale 3D printing to create high-resolution light field printing
Reprint Statement: If there are no special instructions, all articles on this site are original. Please indicate the source for reprinting:https://www.cncmachiningptj.com/,thanks!
---
PTJ® provides a full range of Custom Precision cnc machining china services.ISO 9001:2015 &AS-9100 certified. Large scale machining Manufacturer of medical bags, providing 3D design, prototype and global delivery services. Also offering hard cases, semi-hard EVA, soft-sewn cases, pouches and more for OEMs. All cases are made custom according to specifications with infinite combinations of materials, molds, pockets, loops, zippers, handles, logos and accessories. Shockproof, water-resistant and eco-friendly options. Medical parts, emergency response, Electronic parts, corporate, education, military, security, sports, outdoors and construction industries. Services include case concept consultation, 3D design, prototyping,rototyping,CNC Drilling Services and manufacturing.Tell us a little about your project's budget and expected delivery time. We will strategize with you to provide the most cost-effective services to help you reach your target,You are welcome to contact us directly (

[email protected]

) .