We all built sand castles on the beach: powerful walls, majestic turrets, moats full of sharks. And, if you are like me, you will be surprised at how little water makes things stick together-at least until your big brother shows up and kicks it away with destructive pleasure.
Entrepreneur Dan Gelbart also uses water to glue materials together, although his buildings are more durable than weekend spectacles on the beach.
President and founder of metal 3D printing system provider Rapidia Tech Inc. (Vancouver, British Columbia and Illinois), Gerbart has developed a method of manufacturing parts that eliminates the time-consuming steps inherent in competing technologies while Greatly simplifies the disassembly of the bracket.
This also makes connecting multiple parts easier than dipping them in some water and fixing them together, even for parts produced by traditional manufacturing methods.
Less filler
Gerbart discussed some of the fundamental differences between his water-based system and a system in which metal powder is injected with 20% to 30% wax and polymer (by volume). Rapidia's double-headed metal 3D printer can deposit a paste of metal powder, water and only 0.3% to 0.4% polymer binder.
Therefore, he explained that the debinding process, which usually takes several days, required by competing technologies, is eliminated, allowing the parts to go directly to the sintering furnace.
Gerbart said that other processes are largely derived from "decades of history in the metal injection molding (MIM) industry, which requires green parts to contain a relatively large percentage of polymer to help remove them from the mold. Mold." "However, the amount of polymer required to bond the parts together for 3D printing is actually very small, in most cases only one-tenth of 1%."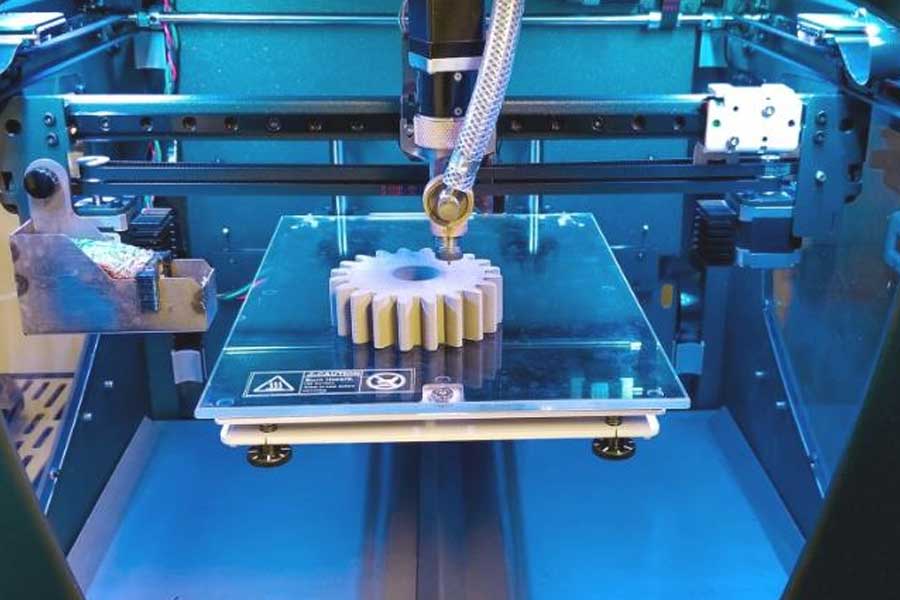 Then why drink water? As shown in our sand castle example, it is used to make a paste (in this case, a metal paste), and the polymer acts to hold the workpieces together when they are dry. The result is that the part has the consistency and hardness of sidewalk chalk. The part is durable enough to withstand post-construction handling, gentle machining (although Gelbart recommends machining after sintering), water-assisted assembly and communication with other green bodies. To the process of parts. furnace.
Eliminating degreasing can also print larger and thicker-walled parts, because when using polymer-infused metal powder, if the wall of the part is too thick, the polymer cannot be "cooked".
Gelbart said that one equipment manufacturer stipulated that the wall thickness must not exceed 6 millimeters. "So, let's say that the size you're building is only part of a computer mouse. In this case, the interior will need to be hollow, or it may need to be filled with some kind of grid structure. This is perfect for many applications, even It is also ideal when the goal is to reduce weight. However, if physical strength is required (for example, bolts or some other high-strength components), then [injected metal powder] or MIM is usually not an option.
Gelbart pointed out other points about the printer. Cartridges filled with metal paste can be refilled, and users who return it to Rapidia for refilling will receive a refund for unused materials.
A variety of materials can be used, including 316 and 17-4PH stainless steel, INCONEL 625, ceramic and zirconia, as well as copper, tungsten carbide and several other materials under development. The support material (the secret seasoning behind many metal printers) is formulated to print supports that can be manually moved or "evaporated", opening the door to internal structures that would otherwise be impossible to produce.
Sales unit
Rapidia has been in business for four years, and it is true that it is only rolling. Gerbart said the company "takes time to get things right."
To date, he and his team have deployed five systems, one of which is deployed at the Selkirk Technical Access Center (STAC) in British Columbia. Researcher Jason Taylor has been using the machine since late January and has seen many advantages over the few existing 3D printers in STAC.
He pointed out that the ability to "water-bond" green parts before sintering has great potential. He also understands the challenges associated with debinding, including the use and disposal of chemicals. Although the confidentiality agreement prevented Taylor from sharing the details of most of the work there, his first test project was one that many of us can involve: 3D printed push rods.
"The result was perfect," he smiled. "We processed the end face and punched a hole in the shaft. I am playing now. We are very impressed with the quality of the work done by the new system. As with all sintered parts, you need to consider some shrinkage and even deformation, but the machine is stable enough, We can make up for these shortcomings in the design."
Link to this article: Metal 3D printer eliminates the debinding step. Metal parts can directly enter the sintering furnace
Reprint Statement: If there are no special instructions, all articles on this site are original. Please indicate the source for reprinting:https://www.cncmachiningptj.com/,thanks!
---
Sheet metal, beryllium, carbon steel, magnesium, 3D printing, precision CNC machining services for heavy equipment, construction, agriculture and hydraulic industries. Suitable for plastics and rare alloys machining. It can turn parts up to 15.7 inches in diameter. Processes include swiss machining,broaching, turning, milling, boring and threading. It also provides metal polishing, painting, surface grinding and shaft straightening services. The production range is up to 50,000 pieces. Suitable for screw, coupling, bearing, pump, gearbox housing, drum dryer and rotary feed valve applications.PTJ will strategize with you to provide the most cost-effective services to help you reach your target,Welcome to Contact us (

[email protected]

) directly for your new project.