Recall that in January last year, the economy was booming, machines were running day and night, and our biggest worry was how to find more labor. However, less than 12 months later, a whole new set of priorities and concerns emerged.
At home, the kitchen table has been remodeled to accommodate our children's distance learning. We order online, from household goods, groceries to other goods, all through the Internet.
But the changes in family life cannot be compared with the changes in the office, the production workshop, and the entire factory. We understand that such a densely populated environment will bring health risks. From the general manager to the machine operator, no one is immune. We learned what it feels like to work from home. However, it is also full of challenges for the cooperation of colleagues, customers and suppliers.
Go digital
As before, plastic processors are focusing on new equipment and technologies to increase production speed and capacity. We look forward to participating in the trade show again to study new production equipment and eagerly hope to accept technological advances, which can enable our business to gain advantages while merging with long-term suppliers. But what are the advantages in recent months and what have we discovered?
Although plastic processors have achieved many improvements in the past year, digital tools are still largely underutilized or completely ignored. The digital world has huge advantages and a high return on investment, taking full advantage of the collective and seamless interaction of network-based collaboration, IT-PLC real-time production tracking, integrated business applications and online B2B customer portal functions.
In most cases, digital tools are underutilized or completely ignored.
Although many industries have readily accepted digital B2B (business-to-business) tools and practices, plastic processors have still faced serious gaps in the past few months. Although the supply chain is paralyzed and sometimes understaffed, plastic processors that provide test kits, masks, ventilator parts, and other parts are considered essential service providers and keep functioning throughout the pandemic.
During this period, many people learned that the B2B communication functions they already had were quickly overwhelmed by countless capacities and largely failed. Therefore, many emails are restored to emails, text messages, phone calls, and other manual intensive processes. The result is unreliable connections, limited information access, and delayed responses.
For plastic processors, the storm is just the beginning, and "business as usual" no longer exists. Agility and responsiveness are the new keywords. And long-term survival will depend on accepting new tools, new ideas, and business practices that support this new paradigm. We live in a digital world. The era of spreadsheets, paper-based schedules, inventory, face-to-face meetings, and other inefficient business-to-business practices is about to pass. Plastic processors that invest in new IT-Web technologies will stand out from the competition.
In addition to bringing internal collaboration and operational benefits to the company, demonstrating digital capabilities and commitments will also become the main differentiating factor in the eyes of customers. In fact, for many manufacturers evaluating suppliers, this is nothing more than a game changer. Customers recognize the value of communication, reliable connections, and online access to real-time information from the shop floor.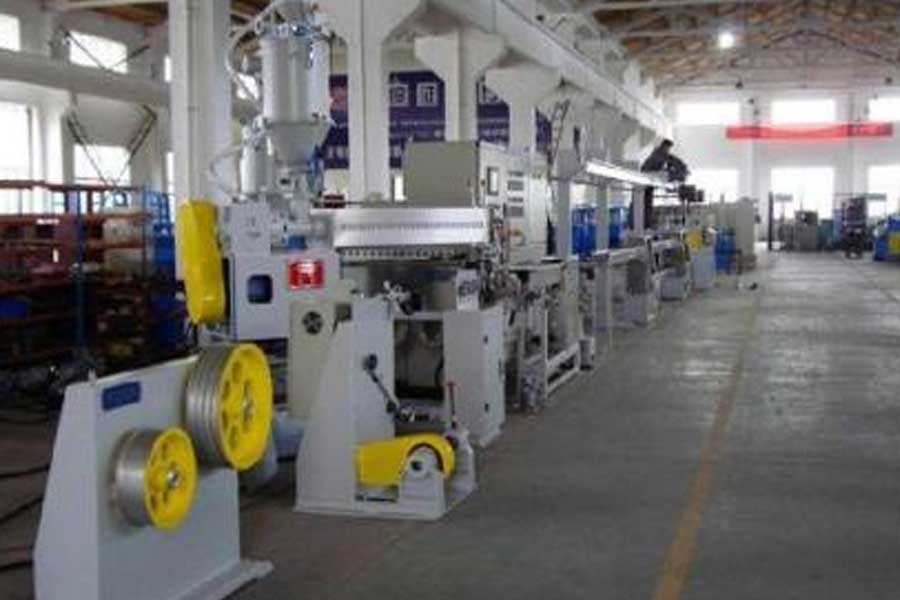 Therefore, if your interest in the digital age is limited to the mobile phone in your pocket, now is the time to step up. Here are some considerations that can help your company succeed:
•Remote work: The home office has its advantages for both employees and the company. Contrary to expectations, research shows that working from home can increase productivity. On average, remote employees work 1.5 days more per month than office employees. Three more weeks have been added to the year. From a company perspective, this agile work strategy can improve employee satisfaction, reduce staff turnover and unplanned absences, and reduce wasted meetings, wasted time, and expenses associated with unnecessary office space.
Creating a remote working environment does not have to be complicated or expensive. However, it does require proper IT infrastructure. A reliable Web-based integrated business system architecture will provide comprehensive real-time information access.
Although not every job is suitable for home, it is ideal for many front office departments. For example, Internet access allows the entire customer service and accounting team to move to a remote location. In addition, sales, marketing, purchasing, and human resources are also candidates for remote offices. In addition, all internal systems (such as order entry, production planning and monitoring, inventory management, purchasing, invoicing and accounting) should be accessible remotely.
Similarly, dashboards allow business owners and managers to remotely access a wide range of real-time information, track progress and monitor performance. Outside the factory, the dashboard can be accessed on a laptop, tablet, mobile phone or any smart device. When in use, the technology can be used to modernize the workshop-the production dashboard can be displayed on the large workshop display to show the real-time machine production plan.
Creating a remote working environment does not have to be complicated or expensive.
According to experts, the future biological threat is still a very real possibility. As living things, we are always vulnerable to new viruses, antibiotic bacteria and related attacks on our health. Therefore, in the foreseeable future, mandatory masks, social isolation and remote work are likely to become standard global operating procedures. Now is the time to start developing a long-term remote employment strategy that can sustain your business and allow you to operate efficiently, regardless of whether your employees are across halls or across towns.
• Prospecting and sales: For some time, the days of jumping on a plane or driving to visit potential customers have slowly disappeared. Business travel is costly and may cause physical and psychological harm to frontline personnel. However, the biggest factor leading to this trend is the advantages, diversity and wide availability of today's powerful customer resource management (salesforce.com, Pipedrive, etc.) and collaborative meeting tools.
WebEx, GotoMeeting, Microsoft Teams, Zoom, Facetime and similar web-based meeting tools enable cheap and effective sales at home or in the office. These virtual meeting applications support screen sharing, video and remote presentations. At the same time, any required physical samples can be easily delivered to potential customers by couriers before the meeting.
Quotations can be emailed immediately and/or displayed in the customer area of your website. Likewise, these quotations can be built-in and automatically executed in internal business software to speed up turnaround time. Automatic quotation can improve efficiency and enable your sales team to send more quotations every week, thereby obtaining more orders.
• Supplier-managed inventory orders; imagine if your customers have consignment inventory and you maintain inventory that is ready to be shipped, you will not be so vulnerable in recent months! Consider upgrading the website to support the B2B consignment function. This type of functionality allows customers to create usage reports for consignment stock and automatically generate invoices in the internal system.
These functions and related functions can be fully integrated into the internal system of the supplier or plastic processor. Visiting the B2B area of your website allows customers to place orders directly based on the number of weeks of use calculated by their historical consumption. Imagine the impact this relationship will have on customer loyalty.
•Online order tracking: The digital environment allows employees to authorize themselves to serve themselves under certain circumstances, so that employees can focus on the core areas of the business. We all placed an online order and anxiously awaited its arrival. We logged into the UPS or FedEx website, entered the tracking number, and observed the progress during the fulfillment and delivery process. From order entry to planning, production, transportation, delivery and invoicing, the process not only allows customers to place orders online, but also monitor the status of a given job through each step. Online tracking is very convenient for customers and saves time on the phone to track the status of the order.
Providing customers with on-demand order status access is not particularly expensive or complicated. However, for this process to work properly, it does require seamless and reliable integration of B2B websites with internal business systems.
• Issue tracking: Like online order tracking, issue tracking is another remaining benefit of a business-centric website. Provide customers with a way to track ticket sales problem reports, which can reduce service center calls. Many ticketing systems can be linked to internal systems to generate problem reports, track quality assurance (QA) measures that must be implemented, and respond quickly. The process also distributes production quality inspection test information to solve problems.
The customer support system is available online and can quickly resolve issues in an effective and organized manner. Learn more about your current quality inspection process. Will unsolved problems fall into the cracks? Are customers complaining about the rise? Is the process automated and can be used online?
• Arrange production staff: Before the pandemic, many plastic processors faced a continuing shortage of qualified production staff. To make matters worse, experienced workers have been isolated, further limiting the number of programmers, machine operators, schedulers, and similar resources available.
Coordinating shifts and convening operators requires flexible scheduling, especially at these times. The use of web-based tools to identify and arrange personnel based on their qualifications and production needs is essential for companies. Take a step back and see how this is done. What is your current process for determining demand and dispatching operators?
New business era
When refueling equipment and returning to work, your ideas may be consumed by employee safety, cash flow, production, recalculation of forecasts, etc. However, you should also spend some time thinking about when, where, and how to start taking advantage of today's digital tools.
Although most industries have embraced the digital age, many plastic processors have made slow progress in adopting their tools, practices, and methodologies. The challenge starts with an integrated business system that has key elements of integration (such as a Web-based architecture and built-in B2B functions).
As human beings, as society, or as enterprises, we all clearly see how vulnerable we are in 2020. Without digital business process communication and remote capabilities, plastic processors who adhere to traditional methods are at a disadvantage in planning and generating critical orders and delivering products to customers. The business landscape is changing, and plastic processors who are proficient in digital technology will be best qualified to gain its advantage.
Link to this article: How do plastic processing companies respond to digital transformation?
Reprint Statement: If there are no special instructions, all articles on this site are original. Please indicate the source for reprinting:https://www.cncmachiningptj.com/,thanks!
---
3, 4 and 5-axis precision CNC machining services for aluminum machining, beryllium, carbon steel, magnesium, titanium machining, Inconel, platinum, superalloy, acetal, polycarbonate, fiberglass, graphite and wood. Capable of machining parts up to 98 in. turning dia. and +/-0.001 in. straightness tolerance. Processes include milling, turning, drilling, boring, threading, tapping, forming, knurling, counterboring, countersinking, reaming and laser cutting. Secondary services such as assembly, centerless grinding, heat treating, plating and welding. Prototype and low to high volume production offered with maximum 50,000 units. Suitable for fluid power, pneumatics, hydraulics and valve applications. Serves the aerospace, aircraft, military, medical and defense industries.PTJ will strategize with you to provide the most cost-effective services to help you reach your target,Welcome to Contact us (

[email protected]

) directly for your new project.