Researchers at Oak Ridge National Laboratory have developed artificial intelligence software for powder bed 3D printers that can assess the quality of parts in real time without the need for expensive characterization equipment.
The software called Peregrine supports the advanced manufacturing "digital line" being developed by ORNL, which collects and analyzes data at every step of the manufacturing process (from design to material selection to printing production to material testing).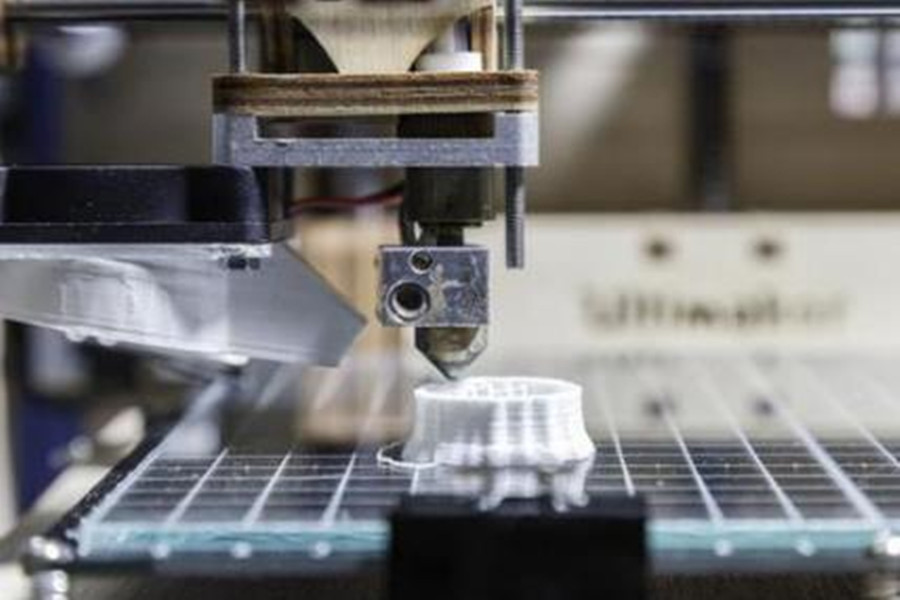 Vincent Paquit, head of advanced manufacturing data analysis research in ORNL's imaging, signal and machine learning department, said: "The captured information creates a digital'clone' for each part, providing a large number of data sets from raw materials to operating components." "We then use this data to identify parts and provide information for future manufacturing across multiple part geometries and multiple materials, enabling a higher level of automation and manufacturing quality assurance."
The digital thread supports the factory of the future, where computer-aided design or CAD is used to design custom parts, and then through advanced communication networks to automatically correct 3D printers to produce custom parts, compared with more cost, time, energy and materials Less conventional production. The concept requires a process control method to ensure that every part rolled from the printer can be installed in basic applications such as cars, airplanes, and energy facilities.
In order to design a control method for visible defects on the surface of a variety of printer models, ORNL researchers created a novel convolutional neural network: a computer vision technology that can imitate the human brain to quickly analyze slave printers The image captured on the installed camera. Peregrine software uses custom algorithms to process the pixel values of the image, taking into account the composition of edges, lines, corners and textures. If Peregrine detects an abnormality that may affect the quality of the part, it will automatically warn the operator so that adjustments can be made.
The software is very suitable for powder bed printers. These printers distribute a layer of fine powder on the building board, and then use a laser or electron beam to melt and fuse the material. Binder injection systems rely on liquid binders rather than heating to melt powdered materials.
The system prints layer by layer under the guidance of CAD blueprints and is very popular in the production of metal parts. However, during the printing process, problems such as uneven distribution of powder or binder, splashing, insufficient heat, and some voids can cause defects on the surface of each layer. Some of these problems may occur in a short period of time, so that traditional technology may not be able to detect them.
Luke Scime of ORNL said: "One of the basic challenges of additive manufacturing is that you have to care about what happens within a few microseconds and tens of microns, and you have to pay attention to the build time of days or even weeks." Peregrine Principal Investigator. "Because defects can be formed at any point at any time at any time, understanding the process and identifying parts becomes a challenge."
Peregrine is testing on multiple ORNL printers as part of the "Conversion Challenge Reactor (TCR) Demonstration Program", which is pursuing the world's first additively manufactured nuclear reactor. TCR is taking advantage of ORNL's long history in nuclear science and engineering, materials science and advanced manufacturing to develop a microreactor using new materials in less time and at a lower cost, thus ensuring this important carbon-free The future of energy.
Scime said: "Especially for TCR, you may encounter a situation where regulators will need detailed data on how parts are manufactured, and we can provide specifications by using a database built by Peregrine."
Kurt Terrani, Director of the TCR Program, said: "The correlation between these signatures collected during the manufacturing process and the performance during operation will be the richest data and information for the qualification of key nuclear reactor components. The most sensible process." "The fact that the lengthy and expensive routine identification process can be eliminated in the manufacturing process is another obvious benefit."
ORNL researchers emphasize that by making Peregrine software machine-independent (which can be installed on any powder bed system), printer manufacturers can save development time while providing improved products for the industry. Peregrine produced a universal image database that can be transferred to each new machine to quickly train new neural networks, and can be run on a single high-performance laptop or desktop computer. Standard cameras are used in the research. In most cases, the installation range is 4 to 20 megapixels, so they can generate images of each layer of the printing platform. So far, the software has been successfully tested on seven ORNL powder bed printers, including electron beam melting, laser powder bed and binder jetting.
Scime said: "Anything we can do can help operators and designers know what is effective and what is useless, which can make people believe that the part can be used." "When you have a network that thinks there is an abnormality and the problem is Each pixel's 3D map opens up a world of understanding of the construction process."
With the development of monitoring systems, Scime says that researchers will be able to combine image data with data from other sources (such as printer log files, laser systems, and operator notes) so that they can uniquely identify parts and track and evaluate all parts Statistics.
AI software is developed by ORNL's manufacturing demonstration facility, which is a user facility of the U.S. Department of Energy, and works closely with the industry to develop, test and perfect almost all types of modern advanced manufacturing technologies.
Scime said: "There is no place like MDF where you can develop machine-independent algorithms. This is simply because we have been running so many machines and so many builds during the research process." "Access to data is the key. Here, we can easily place sensors, technicians can make sure everything is in order, and can get data. With the various scientific expertise available here, it is easy to find experts to help solve all the challenges involved."
Among other process control efforts, MDF researchers are developing methods to monitor defects on the lower surface of buildings and detect pores that may form at deeper levels, including the use of photodiodes and high-speed cameras.
Scime said: "We have been welding for hundreds of years, but the additives have only been used for decades. We don't know what kind of problems will occur in some cases." "Machine learning technology allows us to quickly collect and analyze A lot of data. Then, we can identify these problems and get the knowledge we need to better understand and prevent anomalies."
Link to this article: AI software enables real-time 3D printing quality evaluation
Reprint Statement: If there are no special instructions, all articles on this site are original. Please indicate the source for reprinting:https://www.cncmachiningptj.com/,thanks!
---
PTJ® provides a full range of Custom Precision cnc machining china services.ISO 9001:2015 &AS-9100 certified. Large scale machining Manufacturer of medical bags, providing 3D design, prototype and global delivery services. Also offering hard cases, semi-hard EVA, soft-sewn cases, pouches and more for OEMs. All cases are made custom according to specifications with infinite combinations of materials, molds, pockets, loops, zippers, handles, logos and accessories. Shockproof, water-resistant and eco-friendly options. Medical parts, emergency response, Electronic parts, corporate, education, military, security, sports, outdoors and construction industries. Services include case concept consultation, 3D design, prototyping,rototyping,CNC Drilling Services and manufacturing.Tell us a little about your project's budget and expected delivery time. We will strategize with you to provide the most cost-effective services to help you reach your target,You are welcome to contact us directly (

[email protected]

) .