I don't know if you are like me. During the epidemic last year, I was shocked by the 15 3D printed isolation houses a day! 3D printing technology has played a magical role in the critical moment!
At present, 3D printing is closely related to various industries and has been widely used in various fields such as medical treatment, construction, aerospace, and automobile manufacturing.
The basic principle of 3D printing architecture is the same as that of printers you see everyday. It requires a printer body, nozzles, ink, and paper. The metal frame built around the building is like the body of a "printer"; the "print head" that sprays concrete is the nozzle of a general printer. The "print head" sprays printing materials continuously in a circle and builds a wall through layers; However, the "ink" sprayed by this "print head" is concrete that needs to be specially formulated, and it must be completed at one time without interruption; the steel cage embedded in the ground before construction is equivalent to "printing paper", which follows the wall. As it continues to rise, it is necessary to install steel bars in accordance with the drawings, so that the "paper" can be dynamically extended. The entire printing process requires only a drawing, a computer, and enough "ink" made from local materials, and it can be used within 24 hours. Continuous printing.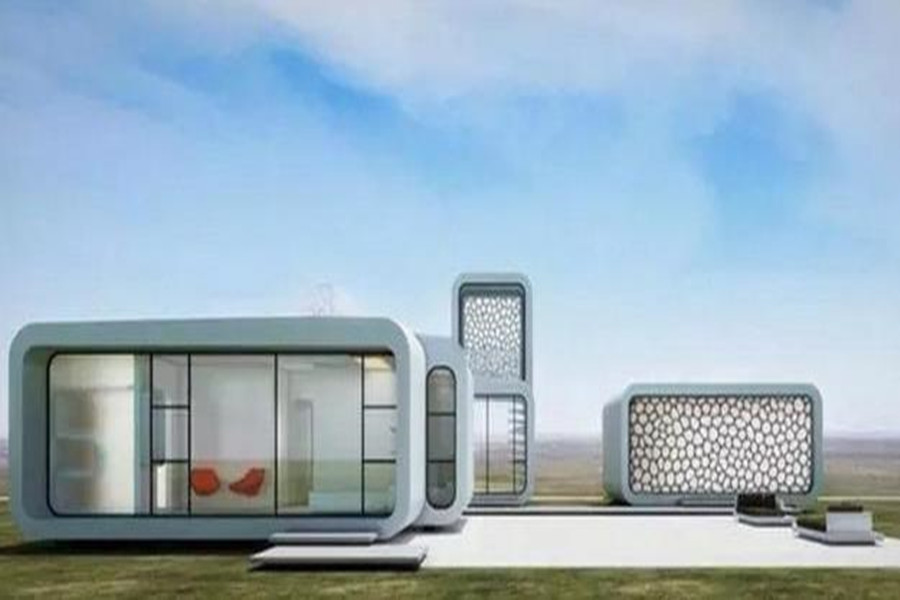 The 3D printed house concept was first established in February 2013 by the London Softkill Design architectural design studio in the United Kingdom. The 3D printed house needs to be fixed with Velcro or button-like fasteners. Role, while relying on traditional construction techniques. This design concept was proposed at the 3D printing exhibition in October 2012. It is not built with solid walls, but a fiber nylon structure based on bones. It was named "Print House 2.0", using the same minimalist and abstract craftsmanship, using enough plastic to ensure the integrity of the structure.
Not long ago, the world's first 3D printing school was built in Mecheza Village in Salima County, Republic of Malawi, Africa. It only took 18 hours from construction to completion. Due to the poor local infrastructure, many school-age children cannot go to school normally, and the education problem is facing a very severe test. After the completion of the 3D printing school, local students started to study in the new school on June 21st.
According to UNICEF, "Malawi lacks about 36,000 classrooms, and 3D printing technology has greatly shortened the construction costs such as time and consumables."
With the help of French technology companies, out-of-school children will return to school
It is understood that the project was constructed by the French technology company 14Trees and completed using 3D printing equipment from the Danish COBOD company.
The walls of the school use 3D printing technology to "finish in an instant". It uses the proprietary LafargeHolcim ink to print 56 square meters of space through BOD2 model 4-4-2, and the entire process takes only 18 hours.
This innovative 3D printing process significantly reduces the time, cost and materials used to build houses and schools, while at the same time reducing their environmental footprint by more than 50% compared to traditional methods.
14Trees stated, "It takes about 70 years to build these classrooms using traditional methods. The company proposes to use 3D printing to produce the same number of rooms in just 10 years. The company will work with a series of non-governmental organizations to work from the most in need of help. Families and communities have begun to solve this long-term shortage problem on a large scale and sustainably."
Pros and cons of 3D printing
One of the most obvious advantages of 3D printing buildings is speed. It only takes 24 hours of printing time to build a 500 square foot (approximately 46.45 square meter) single-storey house.
But it's not just about saving time: 3D printing buildings also reduce waste.
Generally speaking, a typical residential construction site will generate about 4 tons of garbage. Because the concrete used in traditional floor construction is evenly spread, about half of the concrete is wasted regardless of whether structural support is required in a specific area. This is particularly harmful to the environment, because cement, as the main component of concrete, accounts for about 7% of our carbon dioxide emissions. In contrast, a 3D printer can change the thickness of the structure very precisely, using concrete only where it is really needed. This process is called topology optimization.
Digitization of the printing structure is another advantage of 3D printing. This means that the design presented on the computer can be directly converted into printer instructions. This eliminates the need to convert designs into drawings, thereby reducing unnecessary errors and hassle, saving costs and reducing delays. There is an additional benefit of digitalization, that is, it removes barriers to design creativity. Architects can provide custom or semi-custom designs at a lower cost without having to bother to train others to execute the plan.
Nevertheless, compared with ordinary 3D printing technology, concrete 3D printing technology is more difficult. First of all, it is necessary to ensure that the concrete can flow smoothly during the printing process, so that it can enter and exit the printer smoothly without clogging. Second, the concrete extruded from the printer must be able to harden quickly and become strong enough to withstand subsequent layers. On the basis of meeting the above requirements, it is also necessary to achieve sufficient adhesion between these layers.
In addition, 3D concrete printing also needs to overcome a series of challenges in the open environment (work), because environmental dust, humidity, moisture, temperature, etc. are all variables that affect the performance of concrete, so these influencing factors must be precisely controlled.
3D printing architecture is still in the exploratory stage, but the "black technology" of architecture has substantially brought about changes, and it is generally considered to be the future development direction.
Link to this article: 3D printing provides new possibilities for the construction industry
Reprint Statement: If there are no special instructions, all articles on this site are original. Please indicate the source for reprinting:https://www.cncmachiningptj.com/,thanks!
---
PTJ® provides a full range of Custom Precision cnc machining china services.ISO 9001:2015 &AS-9100 certified. 3, 4 and 5-axis rapid precision CNC machining services including milling, sheet metal to customer specifications,Capable of metal & plastic machined parts with +/-0.005 mm tolerance.Secondary services include CNC and conventional grinding, laser cutting,drilling,die casting,sheet metal and stamping.Providing prototypes, full production runs, technical support and full inspection.Serves the automotive, aerospace, mold&fixture,led lighting,medical,bicycle, and consumer electronics industries. On-time delivery.Tell us a little about your project's budget and expected delivery time. We will strategize with you to provide the most cost-effective services to help you reach your target,Welcome to Contact us (

[email protected]

) directly for your new project.