Progress in Rare Earth-Doped Dual-Mode Luminescent Materials
Details

Category: tungsten's News
Published on

Tuesday, 24 August 2021 14:33
In recent years, dual-mode light-emitting multifunctional materials have attracted much attention due to their potential applications in the fields of anti-counterfeiting, display, solid-state lasers, solar cells, light-emitting diodes, and biomedicine. Among them, rare earth-doped dual-mode luminescent materials generate emission light from ultraviolet, visible to near-infrared due to the abundant electronic transition energy levels of rare earth ions, which have attracted great interest from scholars at home and abroad.
Recently, the Environmental Safety Monitoring Research Group (Hongwu Zhang team) of the Institute of Urban Environment, Chinese Academy of Sciences designed and synthesized a highly efficient dual-mode luminescent material doped with rare earths.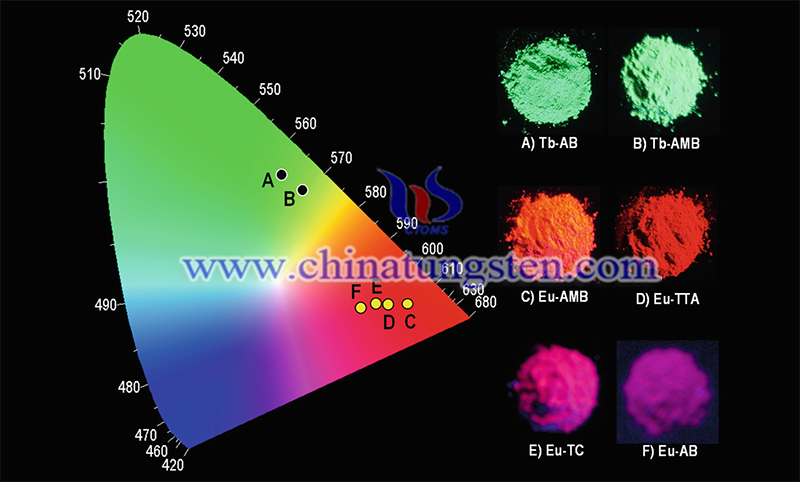 Studies have found that a higher NaF/LnCl3 ratio can not only promote the transformation of the crystal phase of the NaLuF4:Ce3+, Nd3+ phosphor from the tetragonal phase to the hexagonal phase and the evolution of the morphology from nanoparticles to the shape of microprisms, but also improve the NaLuF4:Ce3+, Nd3+ The ultraviolet and NIR-II luminescence properties of phosphors.
On the one hand, under X-ray irradiation, the Ce3+ and Nd3+ co-doped NaLuF4 phosphor has a 5d→4f transition emission, showing strong broadband ultraviolet radiation;
On the other hand, under the excitation of 808 nm laser, due to the 4F3/2→4I11/2 and 4F3/2→4I13/2 electronic transitions of Nd3+ ions, the Ce3+-Nd3+ co-doped NaLuF4 sample produced stronger NIR-II emission.
At the same time, combined with a comprehensive optical performance test, the possible emission and energy transfer mechanisms between Ce3+ and Nd3+ under X-ray and 808 nm laser excitation were discussed.
This research for rare earth-doped dual-mode luminescent materials not only lays a theoretical foundation for the future research of dual-mode luminescent materials, but also provides new ideas for the potential biological applications of dual-mode luminescent materials in deep tissue high-resolution bioimaging and treatment.
Related research results were published in Journal of Alloys and Compounds with the title of NIR-II luminescence and X-ray induced UV luminescence from Ce3+, Nd3+ co-doped NaLuF4 phosphors. The research work was funded by the National Natural Science Foundation of China and the Fujian Provincial International Cooperation Key Project.