Great Atlantic Begins Exploration Program Expanding tungsten Focus
Details

Category:

Tungsten's News

Published on

Wednesday, 29 September 2021 14:04
Great Atlantic Resources Corp. announced that it has begun its 2021 exploration plan in its 100% owned 2950-hectare South Quarry tungsten focus located in east-central Newfoundland. The plan will include prospecting and rock-soil geochemical sampling, prospecting for tungsten and gold mineralization.
The mining area has two high-grade tungsten mineralization areas of quarries with a tungsten content of more than 1%. The mineral is located in the Exploits area of Dunnage, Newfoundland. According to reports, a large number of gold mines have recently been discovered in the Exploits sub-area.
The focus of the 2021 plan is on the central and northern areas of the South Quarry Property, exploring new tungsten mineralization areas in the high priority target areas identified in the company's previous exploration plans. These areas include anomalous tungsten areas in the bedrock and/or soil.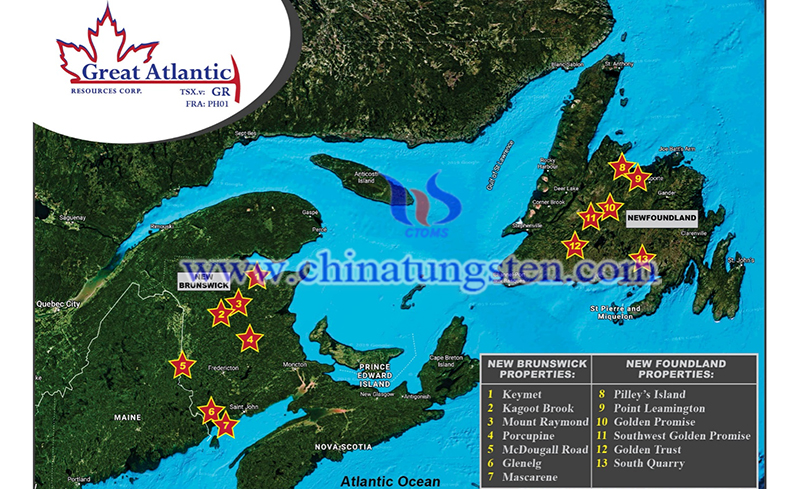 One area of focus at present is the northeastern region of the mineral, where the tungsten values of the soil samples in 2015 were highly abnormal, at 234 and 402 ppm, respectively. Tungsten-bearing pegmatite veins appear in the northern part of the mineral. Atlantic confirmed the high-grade tungsten mineralization (scheelite) in the veins of the area in 2015. The WO3 content of crushed stone samples from 11 quarries exceeds 5% (W% x 1.26 is equal to WO3%). A grab sample from a 25 cm wide vein returned 11.94% WO3.
The 2021 plan will also assess gold mineralization in certain areas. The project has insufficient exploration for gold mines. It is located in the eastern part of the Exploits district. A number of gold mines have recently been discovered in the Exploits subdivision, including the discovery of Marathon Gold Corp.'s Valentine gold project, Sokoman Minerals Corp.'s Moosehead gold project and New Found Gold Corp.'s Queensway project.
Christopher R. Anderson, President, CEO and Director of the company said: "Mr. Martin and I were part of the original management team that promoted the Sisson tungsten and molybdenum project in New Brunswick, which is currently operated by Northcliff Resources Ltd. We understand the tungsten market and believe that although the South Quarry tungsten mine is at an early stage, it may become an important asset of the company. We will welcome joint venture partners to assist in the promotion of the South Quarry tungsten focus".
A qualified person verified the 2015 sample data described in this press release and supervised the 2015 sampling. The 2015 samples (and the blanks, duplicates and standard samples inserted by the laboratory) were analyzed at ALS Canada Ltd. (ALS Canada is independent of Great Atlantic Resources). Tungsten is analyzed by melting lithium metaborate, then dissolving with acid and analyzing by ICP-MS. Some samples are re-analyzed by XRF.