EQ Resources Hits High-grade tungsten at Mt Carbine
Details

Category:

Tungsten's News

Published on

Monday, 19 July 2021 23:33
Tungsten (W) mining company EQ Resources (EQR) reported the latest drilling results of Queensland's Mt Carbine mine, then its share price closed green today. The drilling is designed to help EQR complete the feasibility study for the project, which is located near Cairns.
EQR is busy studying the potential of an open-pit and underground mining project in Mountain Carbine, which the company claims is the only major W producer in Australia.
The results of today's drilling plan hit 22 "King Veins", in this case, which refer to tungsten veins greater than 1% WO3. The best veins come from the Iolanth and Bluff areas in the project area. Starting at 120.85 meters, the veins include a 6.97-meter intersection at 0.9% WO3. Starting from 16 meters below the bottom of the pit, this intersection includes an area of 1.5 meters at 2.88% WO3.
The results of seven other boreholes in the area will be announced later this month. EQR CEO Kevin MacNeill said that the average mineralization grade of this round of drilling reports was "far higher" than the 0.13% WO3 resource grade that was historically reported.
Mr. MacNeill said: "This round of results exceeded our expectations, and we further believe that the discreteness of Mountain Carbine and the continuity of individual regions are now better defined and understood in more detail."
As part of the latest drilling plan, EQR drilled 16 holes in the area with a depth of 4074.1 meters.
The company stated that the 22 separate King Veins mined in the plan show that the width of the vein ranges from 5 cm to 1.5 meters, but is usually between 10 and 30 cm. In terms of classification, the company's W grade ranges from 0.5% WO3 to 17.6% WO3.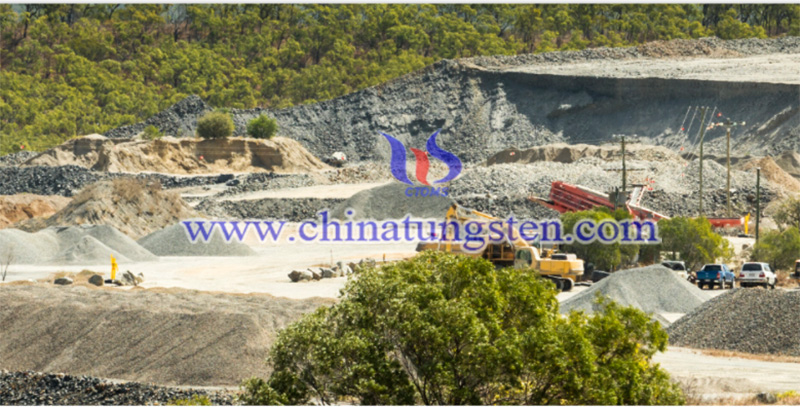 Mr. MacNeill said that all of the information from the drilling plan will flow into the block model and resource statement as part of the planned feasibility study report for the project.
"Our bankable feasibility study will better define the optimal mining plan for the King-Veins in the Mountain Carbine resource to produce better mine grades in conjunction with the use of advanced processing technology in determining the future economics for the next stage in the life of Mountain Carbine," Mr. MacNeill said. He added that the company has been experimenting with some cutting-edge ore- sorting technologies in the project, which Mr. McNeill claimed to have "much higher impact" than the traditional sorting methods used in the project before.
EQ Resources shares closed up 7.69% this afternoon to 2.8 cents per share after reporting the latest drilling results at Mt Carbine about W. The company's market cap is 33 million U.S. dollars.