ATAC Affirms Porphyry Copper-Molybdenum-Gold Potential at Connaught
Details

Category: tungsten's News
Published on

Wednesday, 08 September 2021 20:23
ATAC Resources Co., Ltd. reported on September 2 that its trenching and other surface explorations have confirmed compelling porphyry copper-molybdenum-gold potential at Connaught, an exploration in western Yukon. The project is known for its high-grade silver-lead-gold veins, which usually also carry copper and zinc. Yukon is the smallest and westernmost of Canada's three territories.
Early results of trenching in 2021 at the Connaught mine, about 40 miles west of Dawson City, included 69 meters, with an average copper content of 548 parts per million. "We are largely encouraged by Connaught's early exploration results because they greatly support the existence of copper-molybdenum porphyries," said Graham Downs, President and CEO of ATAC.
Previous rock sampling at Connaught, a silver mine accessible by road, located approximately 65 kilometers west of Dawson City and 10 kilometers east of the Alaska-Yukon border. The measured silver grade is as high as 4,050 g/ton, 79.4% lead, 10.9 g/ton gold, 7.2% zinc and 1.98% copper.
The company said that the rock, soil geochemistry and geophysics of this part of the Connaught mine, which now covers an area of 137.3 square kilometers, is very similar to the Taurus copper-molybdenum-gold porphyry deposit of Kenorland Mining Company, which is located on the border of Alaska.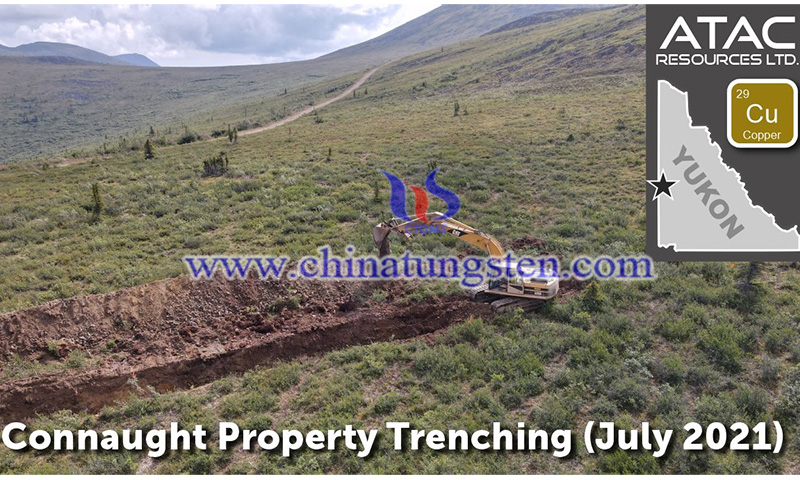 ATAC's exploration in Connaught in 2021 will focus on assessing the potential of this porphyry copper deposit. Ten 100-meter-long ditches were completed in July, spanning the pre-existing 1,100 x 500-meter copper-molybdenum soil anomaly. The company reports that nine of the trenches pass through visible copper mineralization, including malachite, azurite, azurite, and chalcopyrite.
21-A trench is the first ditch dug this year, cutting 93 meters, with an average copper content of 331 parts per million, including the 30-meter-long part, with a copper content of 807 ppm. Highlights that the rock grab samples from the 21-A trench returned up to 0.69% of copper.
ATAC decided to extend trench 21-A by 100 meters and dug a second cross trench of 100 meters. Both the extended and intersecting trenches show additional visible copper mineralization, and analysis is ongoing.
Trench 21-B is located 150 meters northwest of Trench 21-A, cut 69 meters, with an average copper content of 548 ppm, including 0.13% copper. It is located more than 15 meters above the quartz latite dyke and is located in the broader quartz monzonite porphyry. Assays of the last 15 meters of this trench are underway.
Rock samples were collected from the quartz monzonite porphyry in trench 21-D located 150 meters northwest, returning 0.21% copper. The second sample of the intrusive breccia cut by this trench returned 0.17% copper.
The large-scale porphyry copper-gold mine project of Western Copper and Gold is located about 200 kilometers southeast of Connaught. An analysis of 831 meters of trenching is ongoing, including the entire 100-meter-long 21-D trench, plus additional rock sampling completed at Connaught this year.
ATAC CEO said: "The porphyry copper-molybdenum-gold potential in this area has long been recognized, but the systematic exploration of this type of deposit has never been conducted. We look forward to receiving the remaining results so that we can start planning a maiden drill program against the porphyry."