According to data from the US Patent and Trademark Office, the latest annual report of the IFI CLAIMS Patent Services Department has identified 3D printing as the ninth fastest-growing technology in 2020.
The report summarizes the companies, technologies and countries that have obtained the most patents in the past year. Throughout 2020, despite the global pandemic of new crown pneumonia, patent grants have dropped by less than 1% from 2019 to 2020 to 352,013, while patent applications have increased by nearly 5%, maintaining an upward trend in the past four years.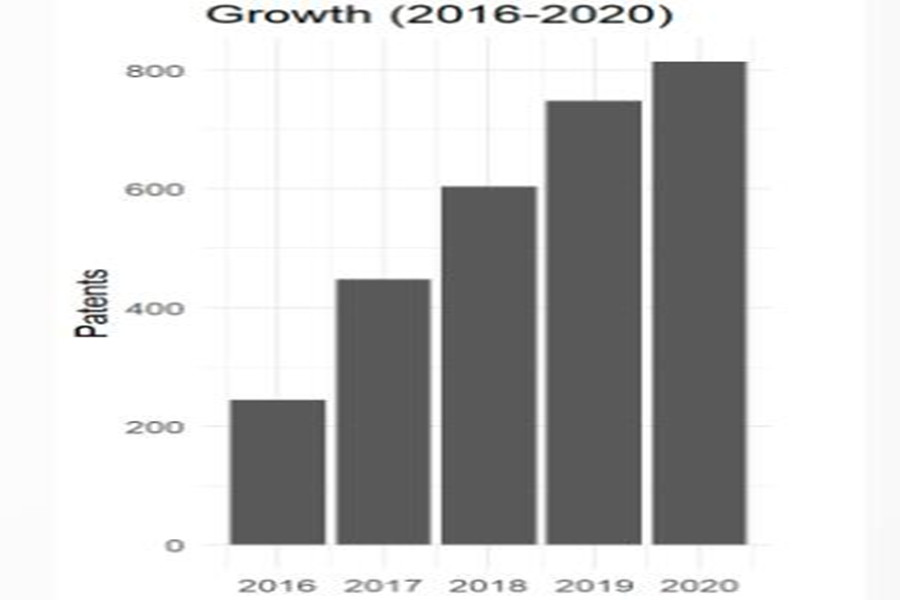 It is worth noting that Jinbao Electronics and XYZprinting, subsidiaries of the Jinbao Group, are both included in the top five companies applying for 3D printing patents in 2020, with a total of 545 patent applications.
Mike Baycroft, CRO of IFI CLAIMS, said: "In general, despite the pandemic, US patent activity declined slightly last year." "In the past ten years, what we have seen is basically an upward trajectory. It's a small drop, but still one percent higher than what we saw in 2018."
"Another positive indicator is that there has been a nominal increase in pre-authorization applications issued in 2020. However, we must wait at least one year before we can determine whether this pandemic has any impact."
3D printing is the ninth fastest growing technology
IFI CLAIMS identified the 10 fastest-growing technologies based on US patent application data as of the end of 2020, and grouped patent publications according to the Cooperative Patent Classification (CPC) code. Then the CPC groupings were screened according to the scale of 2020, and there was rapid growth during the four-year period from 2016 to 2020.
Regarding 3D printing, the report shows that the patent category B33Y 40 (3D printing; auxiliary operations or equipment) is growing at a compound annual growth rate (CAGR) of 27.14%. In the IFI CLAIMS report, this makes 3D printing the ninth fastest-growing technology in 2020. In 2017, among patent applications in the B33Y patent category, after a compound annual growth rate of 35% between 2013 and 2017, 3D printing ranked second in the annual report.
Computer systems based on biological models (67% compound annual growth rate) have a four-year growth rate four times that of 3D printing, and are the top spot in 2020, followed by 55% of electronic smoking devices and angiosperms-with plants Relevant science and technology and seed development-49%. Machine learning is considered to be the fourth fastest growing technology with a compound annual growth rate (CAGR) of 46%, while quantum computers, non-electric variable control systems, information display, information transmission, and automatic driver and navigation for vehicles The system also tops the list.
Patent classification B33Y 40 3D printing is growing at a compound annual growth rate of 27.14%.
Hewlett-Packard (HP) listed the most 3D printing patent applications in 2020, but Kinpo Group's total applications were replaced
By 2020, the United States has obtained 47% of all new patents granted, totaling 164,379, which is the largest share in a single country and three times the number granted to the second largest Japanese company (52,429). South Korea ranked third with 22,400 people, and China ranked fourth with 18,792 grants.
The companies with the most patent applications for 3D printing in 2020 are listed as follows:
HP Development (HP) – 470
General Electric (GE) – 331
Jinbao Electronics – 273
XYZprinting – 272
Boeing-195
Interestingly, since both Kinpo Electronics and XYZprinting are subsidiaries of Kinpo Group, the data shows that Kinpo Group has submitted a total of 545 3D printing patents in 2020, greatly surpassing HP.
Some of the patents included in this data include Hewlett-Packard's Selectable Drive System, the use of Nike's foam particles to make footwear, Markforged's sintering furnace, and Boeing's patents on the method of plasma radiation treatment of powder particles.
Looking at the other companies in IFI CLAIMS's list of the top 1,000 companies to obtain US patents in 2020, the top 10 companies that are most active in 3D printing patents also include Xerox, which is 25% lower than the number of patents filed. In 2019, Continuous Composites increased its patent authorization from one in 2019 to 35 in 2020, and Carbon increased its patent activity by 93%. Concept Laser is the ninth company among the most active companies in 3D printing patents in 2020, followed by Applied Materials, whose number of patents granted is more than twice that of the previous year.
Other companies that have seen significant increases in 3D patent activity in 2020 include Ford Global Technologies (up 157%), Autodesk (up 91%), Thermwood Corp (up 89%) and Align Technology up 83%.
Link to this article: 3D printing will become one of the top ten fastest-growing technologies in 2020
Reprint Statement: If there are no special instructions, all articles on this site are original. Please indicate the source for reprinting:https://www.cncmachiningptj.com/,thanks!
---
PTJ® provides a full range of Custom Precision cnc machining china services.ISO 9001:2015 &AS-9100 certified. Large scale machining Manufacturer of medical bags, providing 3D design, prototype and global delivery services. Also offering hard cases, semi-hard EVA, soft-sewn cases, pouches and more for OEMs. All cases are made custom according to specifications with infinite combinations of materials, molds, pockets, loops, zippers, handles, logos and accessories. Shockproof, water-resistant and eco-friendly options. Medical parts, emergency response, Electronic parts, corporate, education, military, security, sports, outdoors and construction industries. Services include case concept consultation, 3D design, prototyping,rototyping,CNC Drilling Services and manufacturing.Tell us a little about your project's budget and expected delivery time. We will strategize with you to provide the most cost-effective services to help you reach your target,You are welcome to contact us directly (

[email protected]

) .